More and more women, especially brides, opt for a sensual boudoir shooting. In this shoot, the hidden beauty of the woman is depicted in a benevolent way in intimate photographs. Such a shooting conveys sensuality and longing in a very special and above all feminine way. Boudoir photography creates intimate and unique images through a symbiosis of fine fabrics, delicate underwear, feminine elegance and naturalness.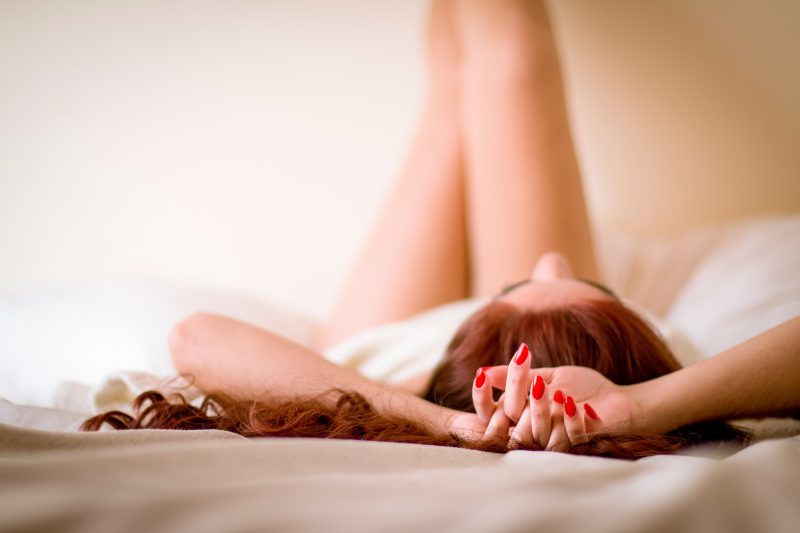 The term boudoir comes from French and is basically quite old. It derives from the French word "bouder", which means "to be in a bad mood" or "to sulk".
In its original form the boudoir describes a small, but elegantly furnished room into which the ladies of the house withdrew if necessary.
Already at the time of Louis XVI, the boudoir served women in France as an important retreat. In the past, the boudoir was a kind of sulking corner for women to retreat to. Today the word simply stands for the dressing room. The term fits quite well, because a dressing room is just as intimate as a boudoir photograph.
In this room, clothes are tried that women often do not show in public. Many women secretly try on beautiful underwear to surprise their loved ones. Boudoir photography gives a glimpse of the woman's small dressing room. In the context of an intimate shooting, the mostly hidden beauty of the woman is depicted benevolently. This creates unique and unforgettable pictures.
For whom is such a shooting suitable?
A Boudoir Shooting is suitable mainly for women and especially for brides. All women are seductive and sensual in their own special way. In addition, the ladies know how to show their femininity visibly. A wedding is the perfect occasion to show off the special, feminine side of a woman.
A boudoir shoot is therefore ideal for women who are about to get married. Of course also single, unmarried women or couples can do such a shooting. As wedding photographers we are perfectly suited for this!
In summary, a Boudoir Shooting is suitable for many people:
all women who like to style themselves, wear beautiful lingerie and like to be photographed
Women, fiancées and brides who would like to give a personal gift to their partners, future partners or husbands.
Brides and their girlfriends, who want to experience something very special at a bachelor party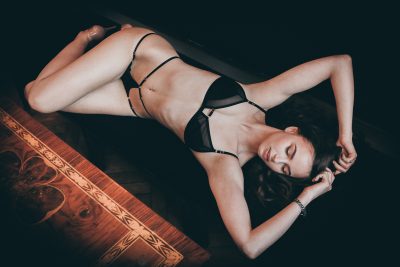 When do you do a boudoir shoot?
Most of the ladies who decide for such a shooting will get married soon. In order to have more than enough time for the Boudoir Shooting, the date should take place before the wedding. Usually 6 to 8 weeks should be sufficient for the planning and execution. Too early the time may not be selected however.
The ladies should have already chosen all necessary accessories, like wedding dress, lingerie for the wedding, the veil and the garter. There should be enough time for the Boudoir Shooting. Hectic is poison for the atmosphere and thus no sensuality develops.
Furthermore, such an erotic and private shooting takes much more time than a classic portrait shooting. Best you calculate with 2 to 3 hours and do not take you on the day much before. With the following tips the shooting will be a complete success and you will experience an unforgettable day.
Tips and tricks for the shooting
Every Boudoir Shooting should take place in a relaxed atmosphere. For this to succeed, you should meet with the photographer some time before the shooting and discuss the procedure. Talk to the photographer about your own ideas regarding outfit, styling and environment. Let him advise you, because he is the expert. Make sure you choose a place where you feel 100 percent comfortable.
don't wear underwear that leaves marks before your shooting

come to the shooting without make-up

bring different outfit and different lingerie with you

make sure that you feel absolutely comfortable in your chosen clothes

get inspiration for the shooting and look at examples with lingerie and suitable poses

let your photographer get you an experienced stylist

follow the tips given to you by your photographer and follow his instructions

during the Boudoir Shooting only go to the point where you think it's right for you

if you don't get into the right mood during the shooting, suitable music will help you to do so

if you feel uncomfortable alone, just take your best friend to the shooting with you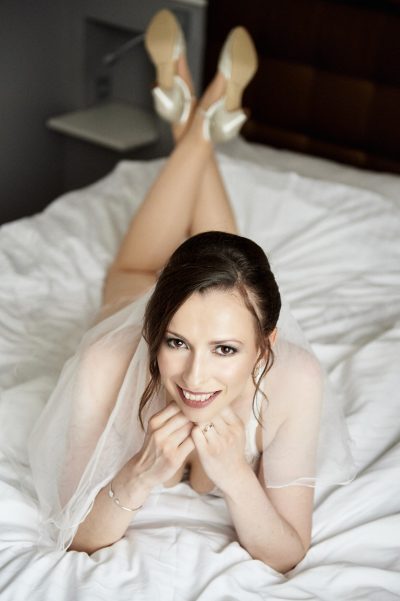 Why do so many chicks do a boudoir shoot?
Most boudoir shootings take place before or after a wedding and there are several reasons why many brides choose to do so. Women can give their future bride a very personal gift that will never be forgotten.
The Boudoir Shooting captures a very emotional moment and this is something very special. Just like at a wedding, no one else but the woman is in the center of the action.
Thus, the shooting is a wonderful opportunity to feel seductive, sensual and completely feminine as a woman or bride. Through the shooting the ladies profit additionally from an increased self-confidence.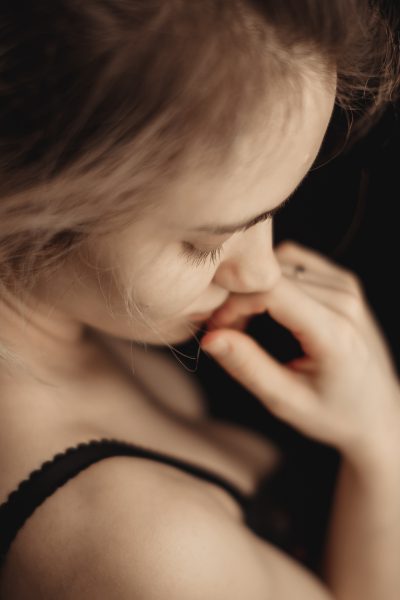 Do I need a good figure for such a shooting?
Every woman, whether slim or fat, young or old, is sensual and erotic in her very own way. That's why it doesn't matter at all what kind of figure you have. If the visual appearance, the location of the shoot and the chosen atmosphere are right, nothing can go wrong anymore. Every character has that certain something and looks sexy, especially when wrapped in matching lingerie. Since you probably want to use the shooting as a gift for your partner, he or she will love your figure anyway and be very happy about the intimate gift.
Where can you do a boudoir shoot?
A Boudoir Shooting can be done almost everywhere. Of course, public places and lively squares are not suitable. Whether the shooting takes place in a private Séparée, in a comfortable hotel room or in the photographer's studio depends on the individual preferences. The chosen location is far less important than the atmosphere. For a successful boudoir shooting, it should be harmonious and meaningful.
At first glance, places that are not quite so suitable can be immersed in a suitable atmosphere with the necessary props. Particularly suitable are stylish hotel suites or rooms equipped with visually appealing boudoir furniture and matching decorative elements.
I don't feel very comfortable being photographed "naked", is that a problem?
That's no problem at all, because you don't have to show yourself naked at a Boudoir Shooting. How much of your body you show is up to you. It is best to take as much underwear and accessories as possible with you to the shooting. Most women are nervous before a shooting and have never posed as a model in front of a camera before.
This is especially true for such an intimate shooting. For this reason it is particularly important that you meet with the photographer in a relaxed preliminary talk and that you first get to know each other. The photographer will help you to overcome your nervousness and assure you that you don't have to show anything you don't want. Usually the initial nervousness fades away in the first 15 to 20 minutes and then it is a lot of fun to try the many different outfits and poses. Now you can decide for yourself how much of your body you want to show in front of the camera.